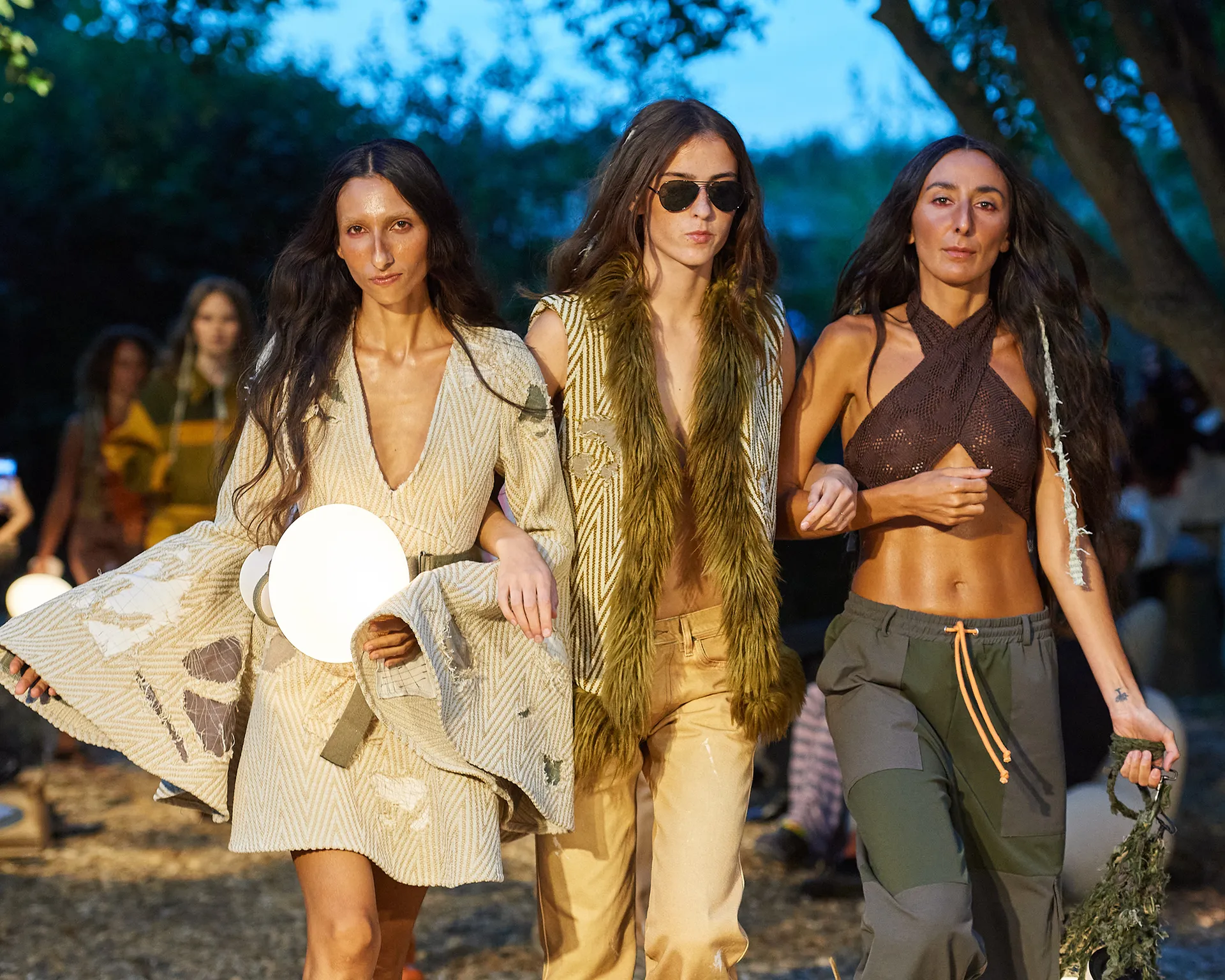 GUBI x (di)vision
COPENHAGEN FASHION WEEK
This August, GUBI and (di)vision got together for Copenhagen Fashion Week, showcasing a fashion-meets-furniture runway collaboration built on the shared values of creativity, courage, and curiosity.
GUBI x (di)vision at CPHFW SS23

In a forested pocket set against the post-industrial landscape of Refshaleøen at the city harborside in Copenhagen, (di)vision presented its SS23 collection on an outdoor runway, with GUBI providing Pacha and Tropique seating and striking an otherworldly ambience with dozens of Obello Lamps.  GUBI's distinctive 'mushroom' lighting was both illuminating the way through the forest and accessorizing the models on the runway.
"I was very drawn to the Obello Lamp, as I have always had a fascination with mushroom clouds and the formation they take. I think it comes from a dream that I had as a child that I now actually have tattooed on my back. There has just always been something fascinating about that shape, and it is clearly seen in the Obello Lamp. It is very alluring, and I just like that it is both a functional and sculptural piece."
Simon Wick, co-founder, (di)vision
Among the characteristically bold apparel on show, (di)vision presents a selection of new pieces featuring upcycled GUBI upholstery fabrics – including the brand's signature bomber jacket.
"I think there are many synergies in (di)vision and GUBI's designs and ideologies. Where we in (di)vision find existing materials, clothing, and designs and recycle them, GUBI finds archival design pieces and brings them back. Both processes are about working with traditional design and reinterpreting it, with the utmost respect for the original, while creating something current."


Simon Wick, co-founder, (di)vision
GUBI X (di)vision
Founded in 2018 by siblings Nanna and Simon Wick, (di)vision has erupted onto the international fashion scene, building a dedicated following and a strong community around their commitment to 'creating from what already is'. The focus on sustainability has led to signature fusions of upcycled premium fabrics, bold customizations, and daring reinventions of wardrobe staples. Like GUBI, (di)vision is a brand with a distinctive aesthetic language, an emphasis on curation, and a passion for the tactile expression of materials – the new runway collaboration puts this synergy center-stage.