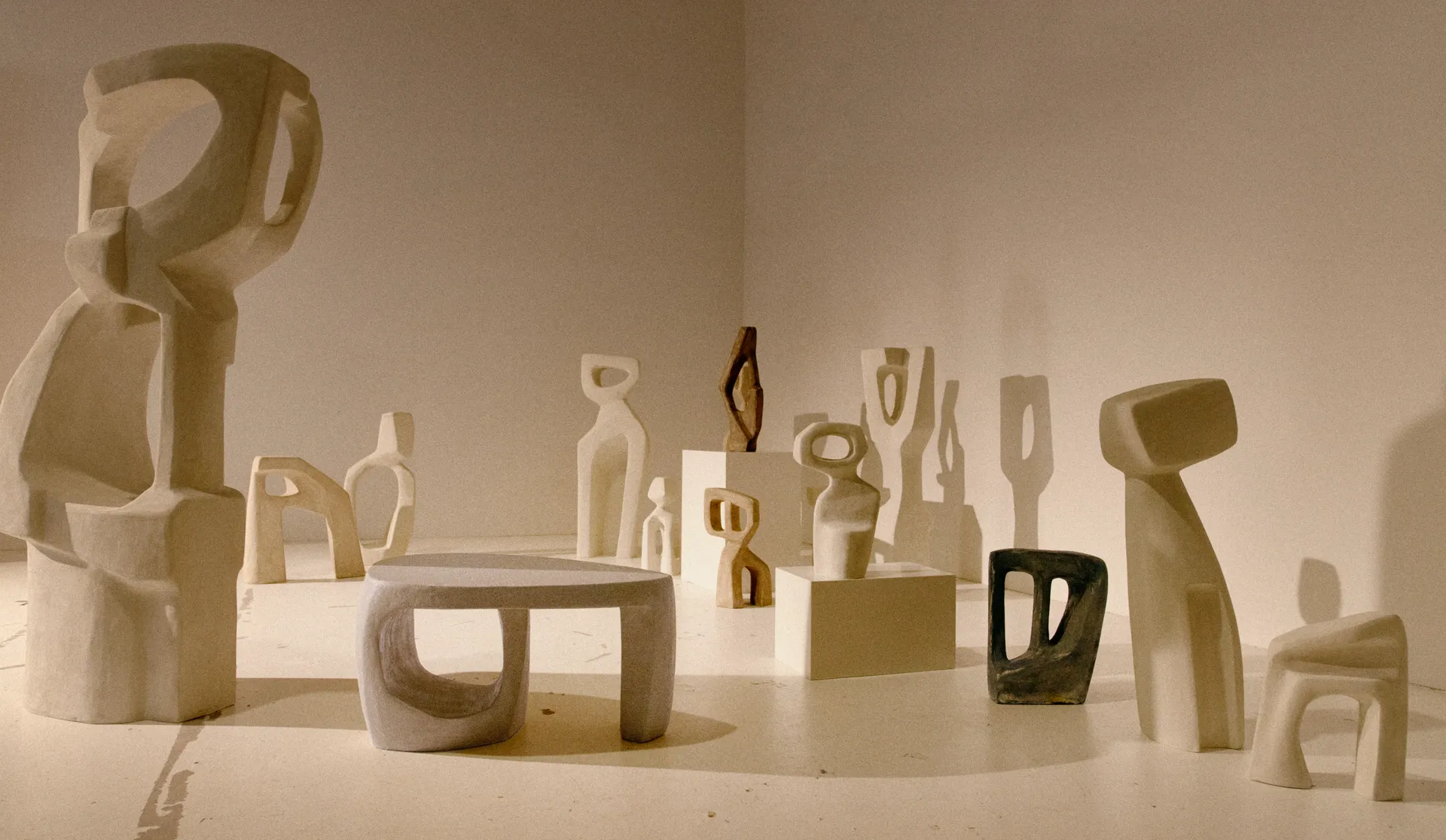 JOSEFINE WINDING
How can we sculpt beautiful moments? We invited danish artist and sculptor josefine winding to navigate the space between art and design through a series of six sculptural side tables created in collaboration with GUBI. Winding explores the notion of aesthetics and the aesthetic experience as she shares her thoughts behind her creative process, identity and expression.
Space, shape and surface
Josefine Winding describes her aesthetic as 'all about shape, surface and spatial awareness.' Having been fascinated by sculpture from an early age and inspired by time spent in her grandfather's workshop as a child, her work is defined by an abstract, powerful, and simple artistic idiom. Calm, stringent, and raw surfaces enable the shapes to play a bold role in the artistic experience. She achieves this quiet yet embracing aesthetic experience using high-quality raw materials. Her approach lets the materials 'speak' through the forms she creates, as she seeks to balance contrasting concepts such as symmetry and asymmetry, simplicity and uniqueness, and shadow and light.
Winding has created a series of six sculptural side tables plus artists proofs entitled adesso, meaning 'now' in italian. The title speaks to the idea that aesthetic consciousness makes difference impact in how we experience being in the moment. The sculptural side table combines the simple with the universal, breaking with our understanding of a table with its four legs and decisive purpose, through its geometrical and yet rounded shape.
Spackling,  sanding and casting
Winding's creative process starts with a sense of scale – her works, which are both geometrical and organic, can be anywhere between fifteen and two hundred centimeters tall. "First I decide on the size," she says. "I love working on quite a large scale." Next, she generates mental images of the sorts of forms that would excite her and starts cutting away at the material to allow the sculpture to take on a life of its own. "The initial image is like a spark, but the result is not necessarily true to the first image in my head, which disappears as I work," she explains.
"I want the shape to invite you to be curious about it, walk around it, stroke it with your hand. I hope it will awaken a sense of presence in people."
Josefine Winding
Winding describes the process of making as meditative, sensuous, and intuitive.
Once she is happy with the form of the sculpture, she begins the process of reinforcement followed by filling, sanding, and casting. All her sculptures are almost fully cast in concrete and sanded and filled up to five times by hand, until she is happy with the tactility of final surface, which must invite the human touch every time.
"It's about letting the shape and the material or surface speak – I feel it intuitively in my body. The shapes and materials can create a presence within me – a sensual invitation to see, to feel and to be - without having to think too consciously."
Josefine Winding
SHADOWS, CURVES, AND BALANCE

Winding describes her grandfather as her greatest role model, having spent much of her childhood in his studio, absorbing his three-dimensional grasp of shadows, curves, and balance almost by osmosis. Beyond her grandfather's influence, she relates to the non-objective and concrete art movements, and finds inspiration in her surroundings.
"Many people describe the anthropomorphic features of my sculptures. This is not intentional, but I do see many of my bodily references as an unconscious reflection of the forms I know and love."
Josefine Winding
Winding's signature aesthetic can be discerned in the balance between the angular and the rounded as well as the carefully considered vacuums and indents in the piece which create changing light and shadow within depending on how the light falls and how the table is placed.
"I aim for a synergy between shape and surface when the surface supports and highlights the form, while the shape brings out the beauty and vitality of the surface through the sculpture's position in the room and how the light falls on it."
Josefine Winding
"GUBI's Collection is defined by a unique aesthetic and a distinctive visual signature – and the same notion of an aesthetic autograph is true for the work of Josefine Winding. We are delighted to collaborate on showcasing the Adesso side table alongside a wider collection of her sculptures."
Marie Schmidt, CMO OF GUBI
Championing a more fluid relationship between art and function, winding describes the pieces as sculptures, which happen to have a size, spaciousness and shape that enable use as a table.