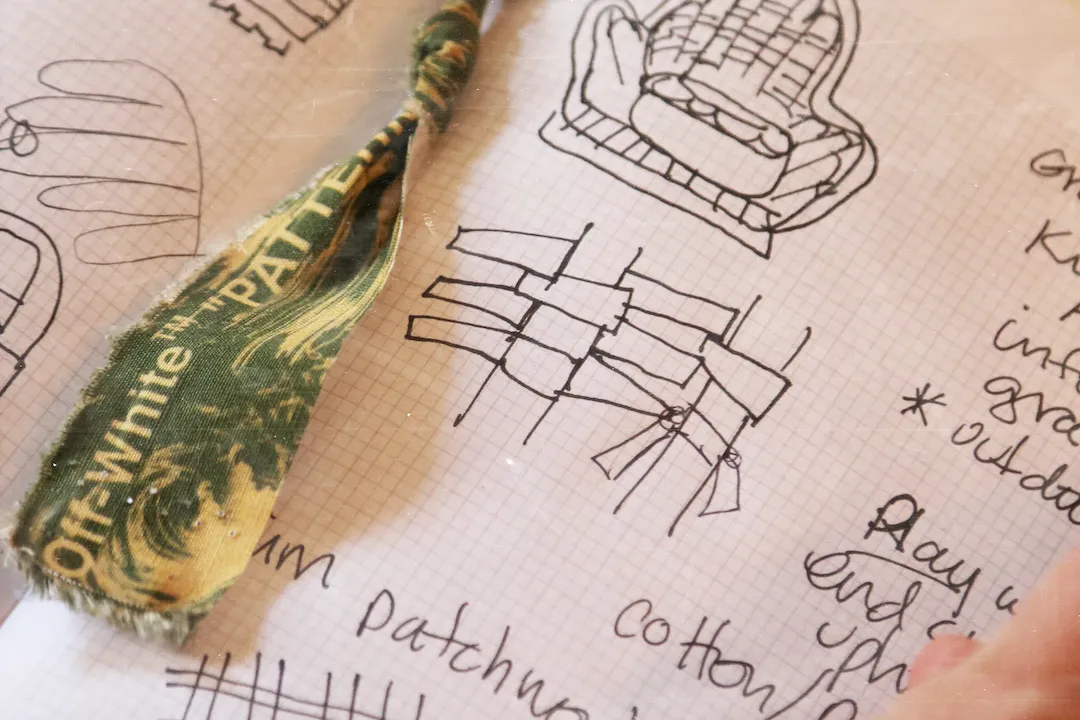 FASHION
IN FURNITURE
GUBI partners with textile artist Camella Ehlke – a pioneer in the streetwear movement and a lifelong force for community and sustainability – to bring a fusion of Off-WhiteTM fabrics and iconic GUBI Designs to Brooklyn-based artist platform Guilty By Association
Interweaving community and sustainable design
Using hand-woven textiles, Camella Ehlke has brought a fresh expression to two GUBI Grace Chairs, designed by Tove Kindt-Larsen in 1936. The collaboration offers a roadmap for artfully and responsibly extending the longevity of great design, and reflects the values of creativity, courage and curiosity at the heart of GUBI.
Hey, What's Up?
The two chairs form part of the launch showcase for new artist platform GBA [Guilty By Association]. Entitled Hey, What's Up?, the exhibition features 19 chairs reimagined with upcycled textiles: a new kind of fashion show highlighting the possibilities of ethical design. Through her use of overstock fabric and recycled garments to reinvent iconic and salvaged furniture, Camella's work responds to the question of how we breathe new life into our surroundings without using new resources, and playfully explores personal expression in a setting conceived to cultivate community.
Cofounded by Karen Wong, former Deputy Director of New York's New Museum, and digital-marketing expert Derek Wiggins, GBA is an innovative marketplace designed to empower overlooked artists. GBA also offers a multipurpose space for the creative community to work and connect, and to present the occasional pop-up. As an artist who throughout her career has worked to foster connection and democratize art and fashion, Camella was a natural partner for GBA's Brooklyn launch.
 "I treated this furniture collection like a fashion collection. The chairs are my muse. Each piece, in other words, invites an individual approach based on its personality, heritage, and purpose. If you can accessorize your furniture, why not?"
Camella Ehlke
A sustainability pioneer
Camella Ehlke is a designer and artist who works with the sewing machine as her paint brush. She founded the label 555Soul in 1989, which led to boutiques in New York, Los Angeles, Tokyo and London and made her a pioneer in the streetwear movement. The blueprint she established for blurring the worlds of fashion, music and art has inspired countless entrepreneurs ever since.
Having left her company in 2004, Camella continued exploring ways to repurpose textiles, and in 2019, she began a conversation with Virgil Abloh who sent her Off-White™ overstock fabrics. Camella continues to explore ways to repurpose textiles, mixing and matching, fraying and pleating — which Abloh coined "the crash of fabrics."
Camella's approach echoes the philosophy at the heart of GUBI: to create enduring pieces designed to last for generations. Camella's ability to connect her new work to the stories of artists who came before her, and her passion for materials with stories of their own, make Hey, What's Up? a colorful, purposeful link between past and present.
"I didn't want to go purchase new material. I didn't want to be a part of the system of consumption and buy new, when we already have so much to choose from on this planet."
Camella Ehlke
Two visionaries intertwined
In Camella's hands, GUBI's Grace Chair – created by Danish designer Tove Kindt-Larsen in 1936 – takes on a thrilling new expression while retaining its fundamental style and story.
"The Grace Chair's rattan construction is sustainable and organic," Camella says of the design, whose curvilinear frame holds a luxurious seat cushion, and which existed only as a conceptual sketch before GUBI discovered and brought it to life. "I love that the rattan is manipulated by hand and I am layering the upholstery and weaving by hand."
"Building on Tove's love of nature, I played with the shadows the chair made as well as with a flower symbol and with camouflage fabric. The camo is an interpretation of nature, as all the different camo patterns are inspired by the terrains where they originate,"
Camella Ehlke
Fashion for furniture
"I take a lot into consideration when I collaborate with a piece of furniture," says Camella. "I was excited to work with GUBI. They have classic shapes and silhouettes and it's fun to embellish and to create further dialogue between the iconic shapes by adding an element of personalization."
A fan of frequently changing up her physical environment to invite inspiration, Camella paired the woven rattan backs with changeable seat covers. "You can update the look and give the space and the objects new life by just moving or changing a few things," Camella says. "The chairs offer a prototype of how we can rethink iconic as well as discarded furniture."
Exclusively at Guilty By Association 

The chairs will be available to view by appointment at GBA Headquarters, 197 Bond Street, Brooklyn, NY 11217, and available to buy at gba.family. A portion of the proceeds will benefit local Brooklyn food charity One Love Community Fridge.